Richard Fuller
MA (Cantab)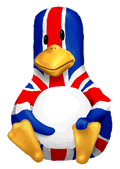 Information security specialist, team leader, Linux system administrator and software developer. Graduate of Emmanuel College, University of Cambridge, in Computer Science.
Amateur worship leader, musician and photographer.
What's Available
CV - Education, employment, and all that good stuff.
Photographs - Various photographs from places I've visited or lived in.
GCSE Notes - GCSE notes for music and history, originally taken for the June 1998 examinations. (Left up because people still find them useful.)
Quotes - Amusing quotes from media articles and press releases.
Feedback - Send an e-mail to the author.